Presentation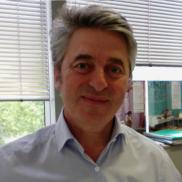 Contact
Send a message
Stanislas Lyonnet is the Director of Imagine, the Institute of Genetic Diseases since July 2016. He is a Professor of Genetics at Paris Descartes University and a clinical geneticist at Hôpital Necker-Enfants Malades. As the principal investigator of an INSERM group (Genetics and embryology of malformations), he has conducted a number of studies aiming to identify the genes and molecular bases involved in inborn errors of development, and authored or co-authored more than 400 publications in peer-reviewed journals.
Stanislas Lyonnet is responsible for the European Master of Genetics (Paris Descartes-Paris Diderot), and served as a member of the INSERM Scientific Advisory Board. He was responsible for launching the Rare Diseases Research Program of the French National Agency for Research (ANR). He is a section editor of the European Journal of Human Genetics, and a member of the editorial board of Human Molecular Genetics. Stanislas Lyonnet is the President of Scientific Advisory Board of Ecole Normale Supérieure (Ulm).
Stanislas Lyonnet was awarded the Jean Hamburger prize in 2006, the INSERM Research Prize in 2009, and the National Academy of Medicine Prize in 2012. He was elected President of the European Society of Human Genetics in 2013.
Imagine is a research and innovative healthcare institute of a new type, bringing together scientists, physicians and patients, on the campus of the Necker-Enfants Malades University Hospital. Imagine promotes an innovative vision of integrating clinics and biology, research and care, as well as public and private partnerships, to speed up the diagnostic and the discovery of new treatments of genetic disorders, and to encourage the fast transfer and translation of knowledge in order to meet the expectations of the patients and their families. As such, Imagine contributes to the France-Médecine-Génomique 2025 national plan. (http://www.institutimagine.org/en/)