Presentation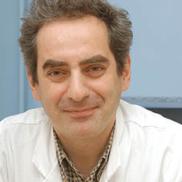 Contact
Send a message
The main objective of the group is to understand the molecular basis of several congenital or neonatal endocrine disorders and to establish new therapeutic strategies.
Molecular basis of several congenital or neonatal endocrine disorders and establishement of new therapeutic strategies.
The first goal of our team is to understand the causes of thyroid dysgenesis, a group of malformations of the thyroid gland leading to congenital hypothyroidism. This is done for the genetic part within the Imagine translational genomic laboratory in cooperation with Claude Besmond and within the INSERM U1016 unit. Normal thyroid function is essential for development, growth, and metabolic homeostasis. In utero and post-natally, thyroid hormones are key player in the normal development of the brain. Thyroid is an endodermal-derived organ. Understanding how such endocrine organs develop is important both to increase our knowledge of developmental processes and also as a basis to unravel the cause of specific pathologies of abnormal development and function of this organ.
Our second goal is to study some rare forms of congenital disorders of the endocrine pancreas. In the last fifteen years, we have focused our research on some specific forms of neonatal diabetes in Human. We have been able to define innovative treatments for children with neonatal diabetes, a rare genetic form of dysfunction of the insulin-secreting cell.
During those years we have gained a considerable experience in the study of the molecular control of the thyroid and islet cell development and we have also been able to establish a network with clinicians from France, Europe and several other countries in particular from Maghreb and Middle east; through this collaboration a depository of rare disorders of the thyroid and the endocrine pancreas has been established with a precise description of cases and DNA from index cases. This is a very helpful biological resource to continue our work.
Our team intends to pursue this « translational » research through further clinical trials, in link with our pediatric endocrinology and diabetology department at Necker Enfants Malades hospital and the clinical investigation center within Institut Imagine. We believe that, through the discovery of new molecular anomalies of thyroid or endocrine pancreas development we will :
better understand some aspects of the development of those glands
discover some anomalies, which are observed much more frequently in adults in an heterozygote state